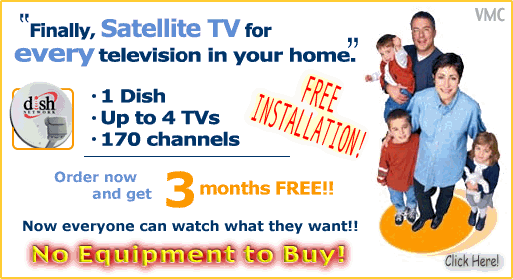 Get FREE INSTALLATION of a SATELLITE TV SYSTEM in up to FOUR ROOMS with up to FOUR RECEIVERS when you sign up for service with Dish Network! There is no equipment to buy.
You will get your first 3 months of service FREE!
You'll get up to 170 channels of CD quality sound and picture for LESS than you pay for cable TV! Monthly rates start as low as $36.99. You can order online and schedule your FREE INSTALLATION from Dish Network!
You can even choose a Personal Digital Video Recorder that records up to 35 hours of your favorite shows without any tapes. You can ZAP commercials, PAUSE, and even REWIND LIVE SHOWS! You can get this personal recorder installed FREE right now. (This is a $499 value if you had to buy one.)